Friday points to a very unhappy day next week.  SPY printed an inverted hammer at the close which is a bearish sign.  Volume was almost as high as the previous day which was also bad, and both days volume is higher than any of the recent good days except 8/9. 
Other technical indicators are also pointing down, including MACD, Stochastic, and RSI.  The Persons Proprietary Signal also gave a sell on Thursday.  There may be some support around 112, but after that it could be serious sailing lower.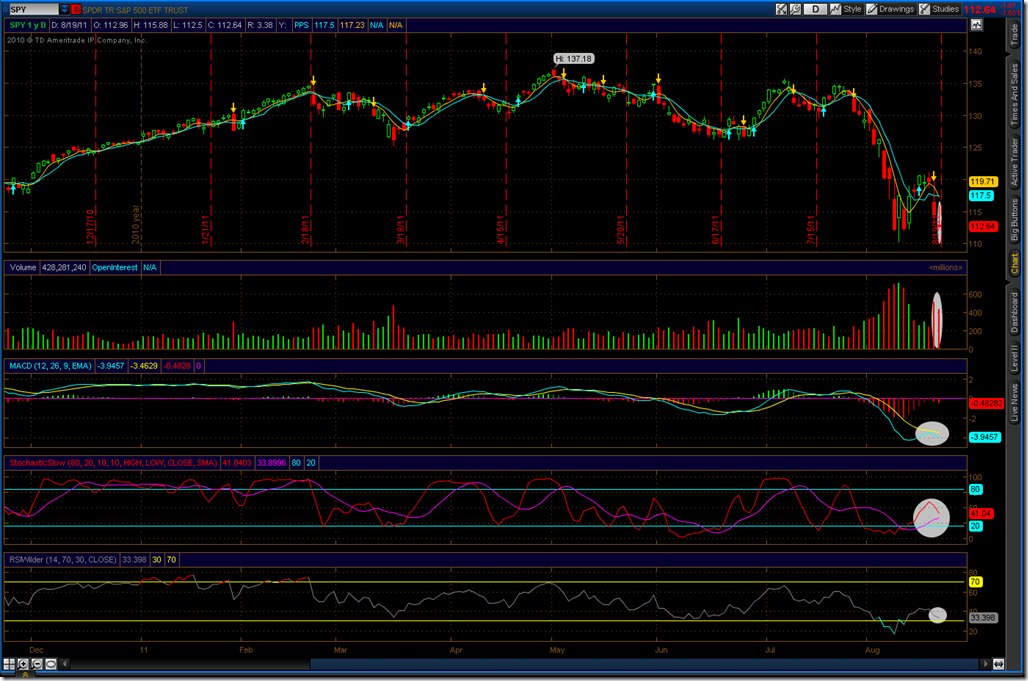 If you have long positions that are working keep the stops tight, other positions should be cut loose until this volatility blows over.  At the very least getting delta neutral or slightly negative delta would be a good idea in the short term.  Bonds and precious metals seem to be the current hot spot for hedging or speculating.  TLT has been up for the past 4 weeks and GLD has been up for 6 weeks, both showing buy the Persons Proprietary Signal for the same amount of time. 
Some straight Bear Puts on SPY could be a good hedge or speculative position.  Shorting the ES futures is also an option.  In and out trades into some of the 3x Bear ETFs might also work here.  If you are not into trading a wild market it may be best to sell everything and sit this out until we see that things have really turned around.  That will probably be a break above 124-125 on SPY.  There we have old support from mid March, which may be some solid resistance.  Be prepared to short again if it bounces off that point.