Websense managed to stink up earnings.  EPS posted was $0.35 actual vs. $0.38 estimated.  Websense lost about 15% after earnings were announced.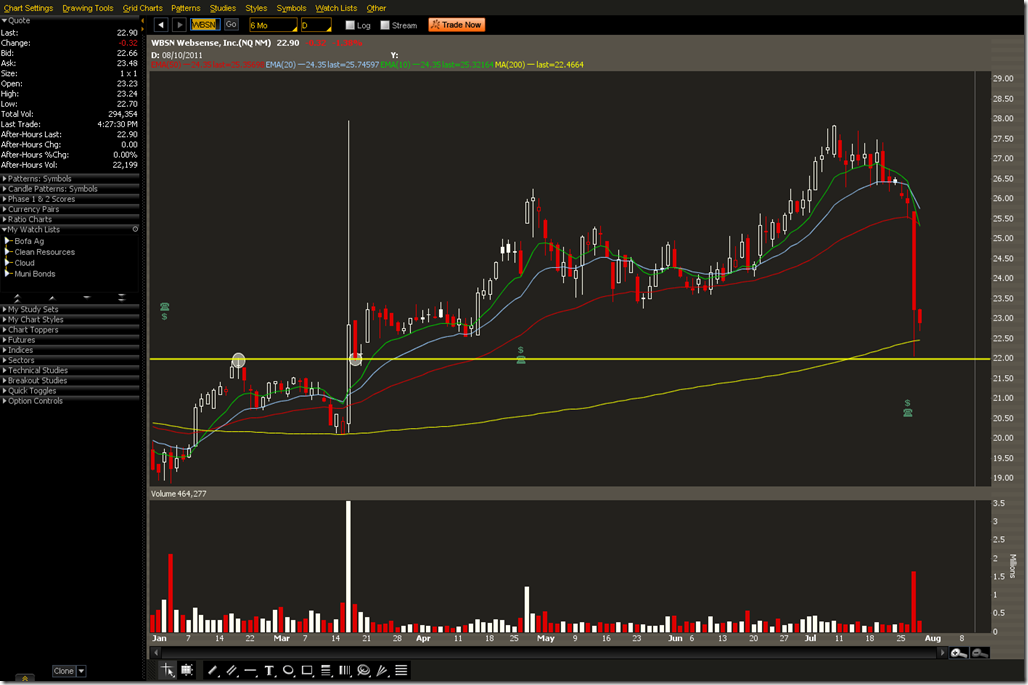 The earnings call discussed "the new normal" of attacks being persistent and the "bad guys" wanting our corporate crown jewels.  Fundamentally, we can assume that their sales and marketing force will be able to capitalize on the activities of groups such as Anonymous and LulzSec.  They noted that they have increased sales of Triton products.  Growth of 47% Year over Year $44.4M.  1st quarter Triton exceeded non-Triton billing.  On the call Websense said they are clearly a Triton company as they look to the future.  This still does not mean that we should be bullish on DLP technology, even though it is part of Triton.  More than likely the bundle of Web, Email, and DLP will see Web and Email use, while the DLP sits on the shelf. 
Since Websense is still above the 200MA and it held the 200MA back in March now may be a good time to get bullish, regardless of how well their technology works.  There's enough marketing hype to continue to propel them along. 
The August 22.5/20 Bull Put Spread is currently pricing at $0.57.  If it stays above 22.5 by August options expiration that would be a gain of 29.53%.  Max loss per contract would be $193 vs. a max gain of $57.  Volatility is high so selling options is a good idea here.
A bearish play would be to use the August/September 22.5 Put Calendar.  This would be a debit of approximately $0.50 and would be a reasonable bearish bet since August Implied Volatility is higher than September.  The Put Calendar may be a good play if we are feeling bearish about the overall market and US Debt Ceiling issues dragging everything down.